"The Last Summer Shadows," 2005

Return: To Photo Thumbnails View


Previous: "Cool Autumn Waters"
Camera Used:
Canon AE-1 (Manual)
Lense Used:
Canon 50mm
Film Used:
Agfa Silvertone 400 ASA
Next: "The Waning Garden"
"The Last Summer Shadows"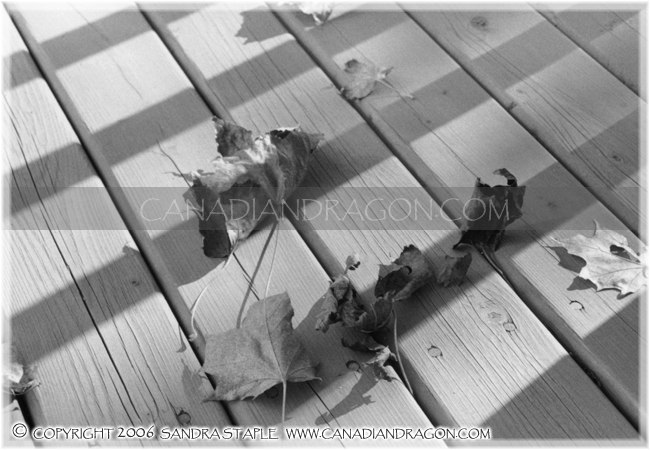 These black and white photos were taken around Halifax. I wanted to capture the shapes and textures of Autumn in Nova Scotia, without focusing on the vibrant colors that everyone associates with Fall.
The film and prints for these black and white photos were developed by me in the darkrooms at the Nova Scotia College of Art and Design. The prints were developed using Ilford Glossy Photo Paper.
I try to keep the scans and photos on this page as close to the actual colors in the original pieces as possible, but some variation may occur depending on your monitor.
Please do not use this photo without my permission! I do allow some website and personal use of these images as long as my copyright is not removed. Please see my
Frequently Asked Questions Page
or
Copyrights Page
for Terms of Use.
If you are interested in purchasing some artwork, you can see a list of available pieces at:
The Canadian Dragon Store
Return to Black & White Wildlife Photography Thumbnails Gallery View