"Wild Unicorn"
Color Pencil Unicorn Sketch, 2001
Original: Unavailable for sale

Return: To Gallery Thumbnails View


Previous: "Gold Fish"
Please visit My Store for a list of available originals.
T-shirts
, Tank-tops, Kids clothes, Hats and more
available with this image for sale at:
Postcards for Sale (Package of 8): $9.95USD
Next: "Toy Unicorn"
"Wild Unicorn"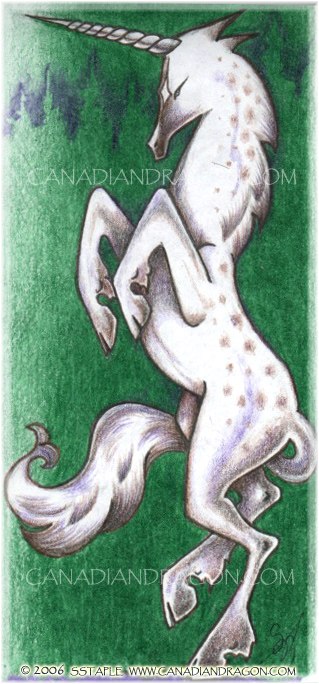 "Wild Unicorn," Color Pencil, 2001

A quick sketch I did in colored pencil for Jason's Mom's birthday, the year before Jason and I were married.
I try to keep the scans and photos on this page as close to the actual colors in the original pieces as possible, but some variation may occur depending on your monitor.
Please do not use this drawing without my permission! I would also ask that you do not use this on your website as a logo. I do allow some website and personal use of these images as long as my copyright is not removed. Please see my
Frequently Asked Questions Page
or
Copyrights Page
for Terms of Use.
If you are interested in purchasing some artwork, you can see a list of available pieces at:
The Canadian Dragon Store
Return to Sketches & Doodles Thumbnails Gallery View