"Spike the Forest Dragon"
Forest Dragon Sculpture, Air-Drying Clay, 1993
Size: Aproximately 6" Long

Return: To Gallery Thumbnails View


Previous: "Rhea the Earth Dragon"
Original: Private Collection
Please visit My Store for a list of available originals.
There are no prints available for this sculpture.
See what prints are available at:
Next: "Father Dragon"
"Spike the Forest Dragon"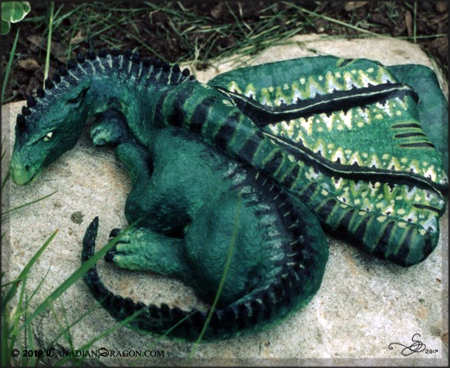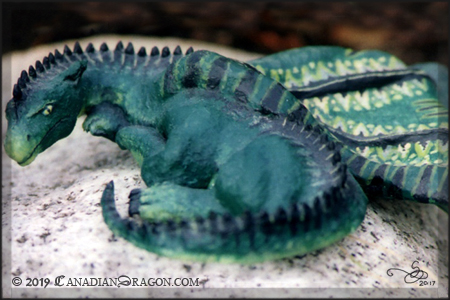 "Spike the Forest Dragon," Dragon Sculpture, Polymer Clay, 1993

Spike rests in the forest, keeping a low profile in case an unsuspecting deer should pass by. Spike is the oldest dragon sculpture I have kept. He did get a "makeover" a few years after I sculpted him. Originally he didn't have any patterns on him, nor did he have as long a tail or any spikes on his back. He is made of air drying clay, and his spikes are made from acrylic paint that I slowly built up! After his "facelift" he adopted his new name, Spike. He has broken and been glued and touched up so many times now that I can't count, so he is a true warrior!
I try to keep the scans and photos on this page as close to the actual colors in the original pieces as possible, but some variation may occur depending on your monitor.
Please do not use this photo without my permission! I would also ask that you do not use this on your website as a logo. I do allow some website and personal use of these images as long as my copyright is not removed. Please see my
Frequently Asked Questions Page
or
Copyrights Page
for Terms of Use.
If you are interested in purchasing some artwork, you can see a list of available pieces at:
The Canadian Dragon Store
Return to Sculpture Thumbnails Gallery View